In memory of Mr. Lubisson
One of the founders of Chinese teaching as a foreign language
Bailesan
Mr. Lu Bisong is worthy of our most outstanding scholars in the field of Chinese as a foreign language.He made the teaching of Chinese as an independent subject and made great and decisive contribution to the construction and development of the subject.He is the father of the discipline of teaching Chinese as a foreign language.
In my case, Mr. Lu is not only a leader in our discipline, he is also a former generation i have the honor to work together and cooperate in the World Chinese Teaching Society, and is also a close friend who will never be forgotten.
I first met Mr. Lu Bisong at the first international conference on the teaching of Chinese as a foreign language in Heidelberg, Germany, in 1992.During the first tea break, Mr. Lu came over and discussed with me the relevant content of the Chinese language teaching methods that I had just published two years ago.He asked me, "Is your 'word-based' equivalent to the 'pheromone standard', does it?""I often think of that moment… Mr. Lu's question reflects the wisdom and courage of a great scholar, he was not bound by the mainstream thought at that time, re-examined and reflected on the "status" of "Chinese characters" neglected in teaching, and had the courage to confess his views.
Since 1993, I have had the privilege of working with Mr. Lu on the Standing Council of the World Chinese Teaching Society and have witnessed his inspiring, dynamic and extremely democratic leadership and guidance to the World Chinese Teaching Society and the Council.His open academic thinking and international vision make the World Association for Chinese Language Teaching maintain its important "international" characteristics.
I also vividly remember the Council meetings chaired by Mr. Lu, each of which was lively and warm because of their enthusiasm for the internationalization of disciplines, sometimes even until 2 a.m. the next day.At that time, the participants also have high-respected Zhai Bingzheng, Kopped, Lu Shaochang, Tian Xiaolin, Yu Yu, Zhang Dexin and other colleagues.At the tea break, Mr. Lu i always come over and hand me a cigarette.He knew I had given up smoking, and I was just smoking with him at this time, as he always joked, we are smokers.At a council meeting in the mid-1990s, when the subject and venue of the next seminar were decided, at 1 a.m., Mr. Lue turned to me and said, "Why not Paris?"With the theme of 'Chinese characters in teaching Chinese as a foreign language'?"I readily accepted his offer, and in 1996, in Paris, the first international seminar on Chinese teaching in France and Europe was held!"
The people have gone, the style of life!
I would like to commemorate in this article our well-deserved master and leader of the Chinese language discipline, Mr. Lu Bisong, and our sincere friendship.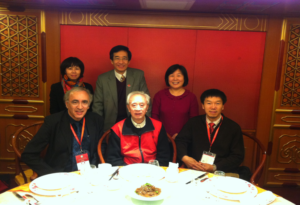 Front row from left: Bai Lesan, President of the Ouhan Society, Mr. Lu Bisong, Zhou Minkang, Secretary-General of the Ouhan Society; from left: Key, Nankai University Professor of Foreign Chinese, Xin Shichang, Vice President of The National Tsinghua University and Professor of Chinese, Lu Bisong Niece (Photo courtesy of Zhou Minkang, Secretary-General of the Ouhan Society)