A brief on Chinese teaching in Belarus
Russian and Belarusian are the official languages of Belarus, and for ethnic Belarusians, who make up more than 80 per cent of the population, it has always been sufficient to master both languages.But now, many young people are eager to master at least one foreign language, such as Chinese.
During the chinese president's recent visit to Belarus, the two countries signed an agreement that China is willing to continue to provide scholarships to outstanding students from Belarus and support the expansion of Chinese language teaching in Belarus.For Grigo, who works in Minsk's Central White Industrial Park, this is the best news you've heard in May.
Unlike some people who mainly learn everyday terms such as "hello" and "thank you", Grigo specializes in technical languages.He said that many Chinese enterprises in the industrial park are leaders in their respective fields, and that only by mastering the ideas of Chinese enterprises from the most advanced technical information can they be determined to develop in Belarus.
Grigo learns Chinese technical vocabulary, is a small instant post, in some of the product models of interest to customers, affixed to the two kinds of chinese and white text, practice every day.He admits that this approach is not easy, to learn well also have to be systematic.Grigo believes that the world's first confucius institute for science and technology at the National Technical University of Belarus will solve the problem.Last October, the academy was unveiled in Minsk.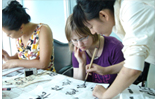 Victoria, who is about to graduate from college, told the Global Times that German was popular in the early years of the White Russian University, but the English culture was unstoppable and many people felt that learning English would lead to a good job.Now, however, many young people think that if they can learn Chinese well, they might be better off.
In fact, at the National University of Belarus, where there was a Research Centre for Chinese Studies a decade ago, the Minsk State Language And Language University tried to open Chinese classes and Chinese language classes 22 years ago, with teaching points in all the cantons.Today, the old alumni meet regularly to talk to new students about their learning experiences.They can understand Chinese films, can evaluate Chinese tea art, and even live performance of Chinese around the password, so that students in reading quite envious.
But for many Belarusians who don't live in the capital, they study Chinese, and look more for local Chinese students.Sergey, a young teacher who teaches at Mogilev University in Belarus, says he has long taught language classes with Chinese students.He added that the next stop in his life might be China.