The 3rd International School Chinese Teaching Seminar, hosted by TheustA Confucius Classroom, was successfully concluded in Singapore on November 18, 2017.Professor Bai Lesan, Honorary Governor of Chinese Language and President of the European Chinese Teaching Association of the French Ministry of Education, came to Singapore from France as a special guest of the General Assembly, and delivered a speech entitled "The Facts and Trends of Chinese Teaching in Basic Education in Europe".
In his speech, Professor Bai Lesan began his speech with "The Status of Society in foreign Languages in the 21st Century", noting that in the 21st century, it has become a common phenomenon for young people to study abroad, to practice, to travel, to communicate and to find employment.In the context of youth mobility, it will be important for students to receive bilingual education in basic education.Therefore, Chinese bilingual education and international school Chinese teaching have developed significantly and rapidly in recent years, and many European countries' official education departments have incorporated Chinese teaching into their language teaching policies.
In particular, Professor Bai took France, Italy and the United Kingdom as examples to illustrate the continuing warming of Chinese language learning and teaching in European countries.Professor Bai pointed out that the total number of Chinese learners in France has reached more than 100,000.Among them, chinese learners account for more than 50 percent of the basic education.In addition, the Italian Ministry of Education last year officially released the high school Chinese language teaching outline.Two years ago, the UK created the first international group of Chinese teachers.Later, Professor Bai shared with the participants his academic views on "the sustainable development of Chinese teaching and the factors that Chinese can make into an international language".Professor Bai believes that these factors include: (1) the discipline of Chinese teaching, that is, Chinese teaching has been listed as the formal subject of basic education in many countries, so that it can become a formally published syllabus and the teaching objectives and teaching standards of each country's college entrance examination.(2) International schools can be used as an advanced test field and one of the important bases for the discipline of Chinese teaching.(3) The ontology of international Chinese teaching should be binary, that is, "word" and "word" two teaching units, to "the principle of effort saving" and "threshold level" concept should be applied to the teaching of Chinese characters.(4) It is necessary to draw a line between primary and secondary schools in Chinese teaching, because it is necessary to consider the cognitive characteristics of primary school students and the characteristics of Chinese as non-phonetic characters.(5) The concept of foreign language teaching in basic education should include three objectives, namely, to develop intelligence, to understand the culture of other countries and to develop the communicative ability of foreign languages.(6) Strengthen the research of basic teaching ontital, and further explore how to integrate Chinese as a non-alphabetic language into the teaching mode of "content and language integrated learning".(7) How to make Chinese as a second language teaching compatible with the standard system of the European framework.(8) Strengthen the training of teachers in basic education and train trainers.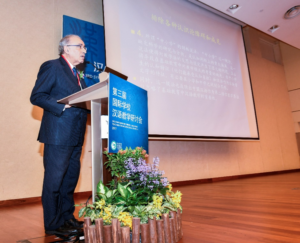 Finally, professor Bai, in his capacity as president of the European Association for Chinese Language Teaching, said on behalf of the European Association of Chinese Language Teaching that the Association is eager to strengthen exchanges and cooperation with sister associations and institutions in its future work and contribute to the sustainable development of Chinese international education through the joint efforts of all of you.Professor Bai's wonderful speech received warm applause from the whole audience, many invited guests and participants in the seminar tea time to ask Professor Bai for advice, asked for photos and signatures are endless, see Professor Bai in the international Chinese teaching reputation, status and influence.
The concept of the "International School Chinese Teaching Seminar" was put forward by Professor Bai Lesan at the unveiling ceremony of the Confucius Classroom in Kosta in 2012.The Confucius Classroom in Costa is held every two years in Singapore, and it is highly recognized by the industry that chinese teachers in international schools have set up a professional platform for learning and exchange and sharing teaching achievements.
The seminar was organized by Confucius Classrooms in Costa, Singapore, co-organized by Fudan University's School of International Cultural Exchange and Singapore-Canada International School, and was supported by the Headquarters of the Chinese National Hanban/Confucius Institute/Hankao International, the Education Department of the Chinese Embassy in Singapore and Peking University Press.The conference attracted nearly 300 international Chinese teachers, experts and scholars from seven countries, including China, the United States, Japan, Malaysia, Indonesia, Thailand and Vietnam.
Editor, OHAN Secretariat, early January 2018