At the invitation of the Confucius Institute of the University of Dublin, The Irish Chinese Research Centre of the University of Dublin and the Irish Chapter of the European Chinese Teaching Association, Professor Bai Lesan of the European Chinese Teaching Association and Vice President Professor Zhang Xinsheng attended the "Short-Term Chinese Teaching Resource Package for Irish Secondary Schools" organized by The Kong Institute and the Center in Dublin on May 28th. Release ceremony.After the ceremony, Professor Bai and Dr. Li Mingfang of Regent's University in London gave academic reports entitled "Chinese Character Teaching in Chinese Language Teaching" and "Vocabulary Teaching in Chinese Language Teaching".About 200 people from Irish institutions and Chinese language teachers attended the celebration, which was described as "unprecedented in attendance".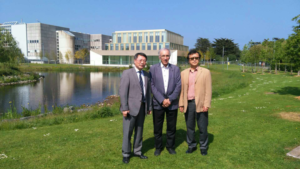 The short-term Chinese curriculum teaching resource package in Irish secondary schools is another initiative of the Kong Academy and the Center to further promote the development of Chinese teaching in Irish secondary schools.Through decades of efforts by various institutions and people, notably the Confucius Institute at Dublin University, the Irish Centre for Chinese Studies and the Confucius Institute in Cork, Chinese has become a short-term junior high school course and a transition course subject in high school, and has been actively promoted by the two Confucius Institutes in hundreds of secondary schools.The Irish government announced at the end of 2001 that Chinese will be one of the subjects in the Irish college entrance examination from 2022, marking the formal entry of Chinese into the country's mainstream foreign language education system.Given that Chinese short-term and transitional courses are not yet complete foreign language courses, and the lack of formal Chinese language courses in primary and secondary schools may allow hard-won Chinese to take the form of the college entrance examination, the Dublin Kong Academy and the Centre also borrowed the opportunity of the event, Senior Chinese professionals from France and the United Kingdom, who are Chinese the European Association and the United Kingdom with more mature educational development, were invited to discuss and discuss the development of regular Chinese curriculum in order to improve the Chinese curriculum in Ireland so as to make it sustainable.
The Club also discussed with the Confucius Institute in Dublin and the Irish Centre for Chinese Studies the second International Seminar on Chinese Language Teaching at the European Union next year, which was tentatively agreed to be held in April 2019 in the newly completed Confucius Institute building at the University of Dublin.Dublin Kong Yuan is one of the few confucius in the world with dedicated buildings, which has been going through decades before and after, and the history of the development of Irish Chinese is very similar.Both sides hope that next year's OHAN seminar will help promote the development of Chinese language teaching in Ireland.
OHAN Secretariat
June 19, 2018