Vice President of the European Chinese Teaching Association (OHAN) and Professor Zhang Xinsheng, Professor of the University of London,UK, was commissioned by The President, Professor Bai Lesan, and the Executive Committee of the Ouhan Society, to represent the European Association at the 9th International Symposium of the Asia-Pacific International Chinese Teaching Association held at Yonsei University in Seoul, South Korea, from October 20 to 22.
The seminar was organized by the Asia-Pacific Association for International Chinese Language Teaching, the Korean Institute of Chinese Education, the Confucius Institute at Yonsei University and the China Research Institute of Yonsei University.The theme of the seminar is "The Integration and Application of Language and Culture in Chinese Teaching".More than 150 teachers and graduate and business representatives from Korea, Japan, Singapore, Australia, China, the United States, the United Kingdom, Hong Kong and Taiwan attended the seminar.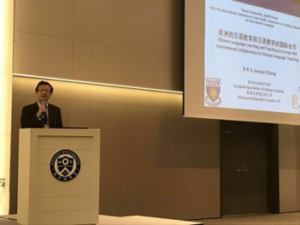 On behalf of Professor Zhang Xin, the European Association delivered a keynote speech entitled "International Cooperation in Chinese Language Teaching and Chinese Language Teaching in Europe" at the conference.Professor Zhang briefly introduced the development of Chinese language teaching in Europe in the past ten years and the newly established European Association for Chinese Language Teaching in 2015 and its ongoing work, and put forward hopes and concrete suggestions on behalf of the European Association on the cross-regional international cooperation in Chinese language teaching.He pointed out that in the past decade, Chinese has made great progress in many countries in Europe, North America and the Asia-Pacific region in the non-target language environment, and there is an urgent need for extensive international cooperation across regions in the areas of discipline construction, teacher training, cognitive research of learners, language policy and standard-setting of Chinese language.He also analyzed the importance and necessity of cross-regional cooperation by taking the standard-setting and examination problems of Chinese proficiency as an example.
Also giving keynote speeches at the seminar were Professor Deng Shouxin from Central University in Taiwan, Professor Meng Zhuyi of The University of Foreign Chinese of Korea and Mr. Qiu Lihua, Ceo of Shanghai Wuxuan Technology Co., Ltd., and Professor Sun Chaoying, President of the American Association of Chinese Teachers and Professor Sun Chaoying of Stanford University.During the two-day meeting, delegates to the General Assembly divided into 12 groups to read out their papers on eight topics and to exchange and discuss relevant issues.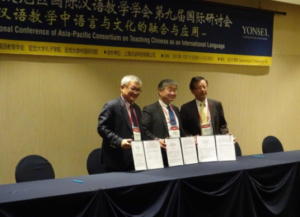 At the seminar, three regional associations, the Asia-Pacific Association of International Chinese Teaching, the American Association of Chinese Teachers and the European Association of Chinese Teaching, signed a strategic cooperation agreement on international Chinese teaching after full consultation, marking a new chapter in the international cooperation of Chinese teaching in non-target areas.
Pictured is the Asia-Pacific International Chinese Teaching Association, the American Chinese Teachers Association and the European Association for Chinese Teaching to sign a strategic cooperation agreement for international Chinese teaching